CompTIA Certification Courses
In today's day and age where enterprises are governed by robust
IT Service Management
and IT Security frameworks, it is imperative for both newcomers and experienced IT professionals to gather the required skill set to be on par with the industry demand and also to adhere to the latest best practices.
There is an increased need for IT professionals who have a sound knowledge of IT practices that are not specific to any vendor or governing body. In this regard, CompTIA has various certification training courses which cover most of the categories that are critical for an enterprise in network infrastructure, enterprise security, access and control, and overall security.
CompTIA has four different certification levels, namely, core, infrastructure, cybersecurity, and additional professional. Below are some of the most sought-after CompTIA certification courses opted for by both professionals and enterprise teams globally.
CompTIA A+ Certification:
CompTIA A+ is one of the oldest and also one of the most popular IT certifications for professionals. This
CompTIA A+ Certification
is for anybody who needs a fundamental understanding of computer proficiency. In fact, this CompTIA certification is an industry-standard in enterprises across industry sectors. Because CompTIA certifications are vendor-neutral, they are very popular among both professionals and employers alike.
CompTIA Security+ Certification:
A popular certification among networking professionals, CompTIA Security+ is one of the highly-demanded certifications globally. This
CompTIA Security+ Certification
is ideal for professionals who manage enterprise network architecture. Participants who take up CompTIA Security + Course will learn about enterprise security, networking architecture, access and control mechanisms, and more.
CompTIA Network+ Certification:
This
CompTIA Network+ certification
is ideal for any new professional joining the IT industry. With this Network+ Certification training, participants will learn about basic networking skills, configure, maintain, manage, and install network architecture in an enterprise. It would be beneficial if a participant has 1-year of experience in the IT domain and also CompTIA A+ certification.
CompTIA Server+ Certification:
The CompTIA Server+ is an intermediate level certification that is ideal for professionals who are in the server support domain. This CompTIA Server+ certification is ideal for professionals with 1-2 years of experience in the IT industry and especially for those who have performed the job role of system administrators. Participants who take up CompTIA Server+ certification will learn about building server software and hardware technology. It is recommended to have a CompTIA A+ certification before taking up CompTIA Server+ training.
CompTIA Certification Pathway -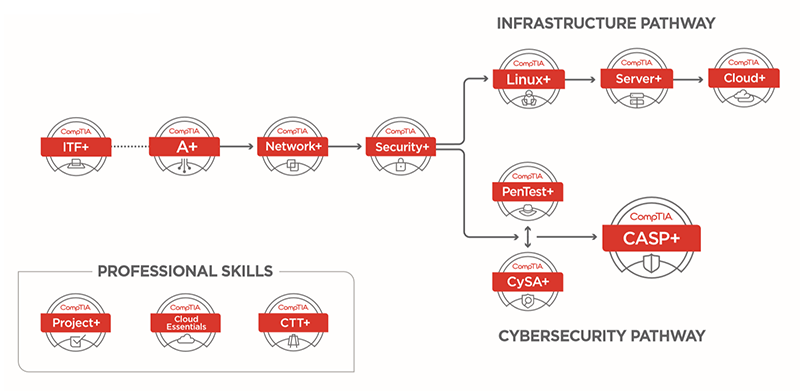 Who can take up CompTIA Certification Training?
Job roles that can benefit from CompTIA Certification training include, but are not limited to:
Networking Professionals
System Administrators
Security Analysts
Security Engineers
IT Security Administrators
Information Security Analysts
IT Managers
Security Consultants
CIOs
Aspiring IT/Information Security Professionals
Professionals who want to understand IT infrastructure, networking, and security concepts in an enterprise set up
Professionals who want to clear their respective CompTIA Certification exams
Reasons to choose CompTIA Certification Courses from Koenig Solutions
A wide range of widely-acknowledged CompTIA certification and training courses across categories
Begin your IT career with widely-accepted CompTIA training courses
Expert CompTIA instructors who have real-world experience to implement IT security best practices
CompTIA certification course material prepared by Subject Matter Experts with case study discussions
Get CompTIA online training from an Authorized Platinum Partner of CompTIA
Options to take your CompTIA courses either in 8 hours/day or 4 hours/day
Get Flexible dates for the instructor-led classroom, live online, and on-site CompTIA training programs
Get blended training delivery modes for your CompTIA training
Be part of 'Guaranteed to Run' CompTIA Certification sessions with 'Exam Pass Guarantee'
Enhance your career prospects with the most sought-after CompTIA Certification training courses
Benefits of CompTIA Certification Training
As a professional, be on par with industry standards with various CompTIA certification courses
Kickstart your career in any part of the globe. Because these CompTIA certifications are vendor-neutral, you can take up positions worldwide.
Get better pay with CompTIA certification credentials. According to the "IT Skills and Salary report," the salary range for CompTIA certified professionals ranges from USD 75,000 to USD 160,000.
These CompTIA certification courses cost less than your traditional computer science degree. Get certified today to avail better career prospects than a traditional college degree.
Regularly showcase your commitment towards professional upskilling by earning various CompTIA certifications to grow in your career
Be part of an esteemed network of CompTIA certified professionals which is in the range of more than 1 million.
Be part of a certification program that continuously updates its courses depending upon the trends and market demands worldwide.
CompTIA Certification Process
There are different ways and multiple courses through which an individual can become CompTIA Certified Professional; some of the key steps are:
Select relevant CompTIA Certification training from an accredited training partner like Koenig Solutions
Make the payment for your CompTIA Certification course
Start your preparation for the training by thoroughly reading CompTIA training collaterals provided by Koenig
Attend the CompTIA training and clear your doubts during the session
Prepare for the CompTIA exam by taking up mock sample tests
Apply for CompTIA certification exam online from Pearson Vue and clear the exam
Become a CompTIA Certified Professional to enhance your career growth and to become a global professional
Salary Insights of CompTIA Certified Professionals
The salary of a CompTIA certified professionals depends on the job role, experience, and location. Below are the salary range of CompTIA certified professionals globally