PMI Certification and Training Courses Overview: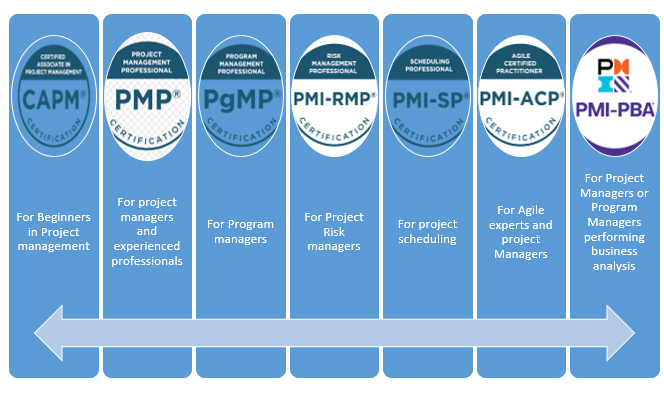 Today anything and everything is a project. In this project-based business landscape, it is critical for individuals and enterprises to embrace project management frameworks and best practices to deliver maximum value. As enterprises are losing more than 100 million dollars for every billion spent on projects, it needs a significant change in the way projects are handled on a day-to-day basis.
The best part about PMI certification courses is that none of the training follows a particular framework. PMI courses are all based on the extensive experience of project practitioners globally belonging to various industry sectors such as construction, oil and gas, energy, retail, manufacturing, e-commerce, and many more. With inputs from such a wide array of sectors, it makes the PMI certification courses truly global in nature, and both professionals and enterprises have high regard for PMI certified professionals in the market.
There are many Project Management frameworks and popular certifications, but PMI certification training is the gold standard in the industry, and the PMI chapters held across the globe help the PMBOK Guide to stay relevant by making version changes at regular intervals. Some of the popular PMI Certification courses are:
1- PMP Certification Training:
Anybody who is interested in Project Management career knows that Project Management Professional (PMP) is one of the most sought-after certifications from both professionals and employers alike. There is no doubt about the popularity of the
PMP certification
as there are nearly more than 1 Million+ PMP certified professionals globally. This PMP Exam Prep is a 5-day instructor-led interactive training that can be delivered both as a classroom and live online training. Participants who attend this PMP course will receive a course completion certificate and 35 PMI PDUs to apply for their PMP certification exam.
2- CAPM Certification Training:
The Certified Associate in Project Management (CAPM) Exam Prep training is an entry-level project management course for professionals who want to gain a basic or fundamental understanding of project management concepts.
CAPM training
is ideal for new project managers, IT managers, team leads, Business Analysts, and more. Participants who attend this 5-day CAPM certification training will receive a course completion certificate and 23 PMI PDUs certificate by which they will become eligible to take up the CAPM certification exam from PMI.
3- PMI-ACP Certification Training:
With Agile transformation taking center stage across many of the industry sectors, it is imperative that many
Agile certification training
courses are in great demand. Especially PMI-ACP (Agile Certified Practitioner) Exam Prep training is quite popular for both individuals and enterprises. As many enterprises are adopting Agile best practices, they need skilled professionals to achieve an overall Agile maturity in enterprises to stay relevant for the future. Participants who attend the PMI-ACP certification training will receive a course completion certificate and 21 PMI PDUs, which will make them eligible to sit for the PMI-ACP certification exam.
Who can take up PMI Certification Training?
Job roles that can benefit from PMI certification training courses are:
Project Managers
Software Developers
Business Analysts
Project Team Leads
Project Consultants
Project Sponsors
Product Owners
IT Managers
Change Managers
Project Coordinators
Project Analysts
Associate Project Managers
Project Team Members
Aspiring Project Managers
Professionals who want to gain a holistic understanding of project management concepts
Anybody who is looking to clear their respective PMI certification exams
Reasons to choose PMI Certification Courses from Koenig Solutions
A broad portfolio of PMI Certification courses for professionals across multiple levels and industry sectors
Get trained in some of the most sought-after project management and Agile certification courses from PMI
Expert Project Management and PMP trainers with real-life experience to make you understand how to incorporate project management best practices for your projects to complete them successfully
PMI certification course material prepared by Subject Matter Experts with relevant case studies and group discussions to gain a thorough understanding of the PMBOK Guide and other manuals from PMI
Get PMI Certification training from a PMI Registered Education Provider (R.E.P ) globally
Working professionals and students to get two flexible time slots in 8 hours/ day and 4 hours/ day options to take up their PMI certification courses
Enterprises and teams to get customized PMI training and schedule that meet their business/ team requirements
Get 1-to-1 training and Fly-me-a-trainer option to get dedicated attention for your specific learning needs
Be part of 'Guaranteed to Run' PMI Certification training sessions with 'Exam Pass Guarantee'
Benefits of PMI Certification Training
Improve your knowledge to handle business-critical projects by gaining a thorough understanding of PMI best practices to manage projects
Kickstart a project with necessary buy-in from all the stakeholders to take on a project
Get to know how to use Project Management tools and templates in your day-to-day activities to ensure the project is completed within the allocated budget and timeline
Enhance your career prospects globally through widely-recognized PMI certification courses such as PMP, PgMP, CAPM, PMI-ACP, and more
According to PMI Pulse of Profession, achieve a minimum of 20% higher salary by taking up PMI Certification training
Choose a successful career path for yourself with PMI certification training that covers most of the trending domains, which include Project Management, Agile, Business Analysis, Risk Management, and more
PMI Certification training have a Continuing Education requirement to maintain their certifications every 2-3 years, which will help professionals to stay relevant and future proof their careers
PMI Certified professionals will automatically get additional job responsibilities to handle or be part of complex projects
Be more marketable in a challenging job landscape with PMI certifications
PMI Certification Process
An individual can become a PMI certified professional by taking up various PMI certification courses. Below are the steps to become an out and out PMI certified professional:
First, you have to select relevant PMI certification training. If you are fresher, then get started with CAPM, and then go for PMP, PMI-ACP, PgMP, and so on
Select a suitable schedule and training delivery mode for your PMI training and make the payment accordingly
One can kick start their preparation for PMI training by thoroughly going through the pre-reading materials provided to you by Koenig Solutions
Attend the PMI Certification training and clear your doubts and start preparing for the certification exam
Take as many practice tests as possible to clearly understand the exam pattern
Become a PMI Certified Professional to take your career to the next level
Note: All PMI courses are Exam Prep training. You have to separately apply for the certification exam through the PMI website upon meeting their pre-requisites for courses and post achieving relevant PMI PDUs.
Salary Prospects for PMI Certified Professionals
PMI certifications are widely acknowledged across various industry sectors, and PMI certified professionals are one of the most sought-after across the globe to complete projects of all sizes and complexities. Considering the PMI certification's popularity, let's take a look at PMI certified professionals' salary prospects worldwide.
Job Prospects for PMI Certified Professionals
With PMI certifications being the most sought-after across industry sectors, there is a great demand for professionals who are PMI certification credentials. There are more than a million PMI certified professionals worldwide showcasing its popularity by both professionals and employers. Some of the top companies that are actively hiring PMI certified professionals include Comcast, Amazon, Google, Microsoft, Cognizant, Capgemini, Deloitte, JP Morgan Chase, Ernst & Young, FedEx, Kaiser Permanente, SDK Software, Adobe, and more. Check out your local job listings to find out PMI related job prospects in your region.